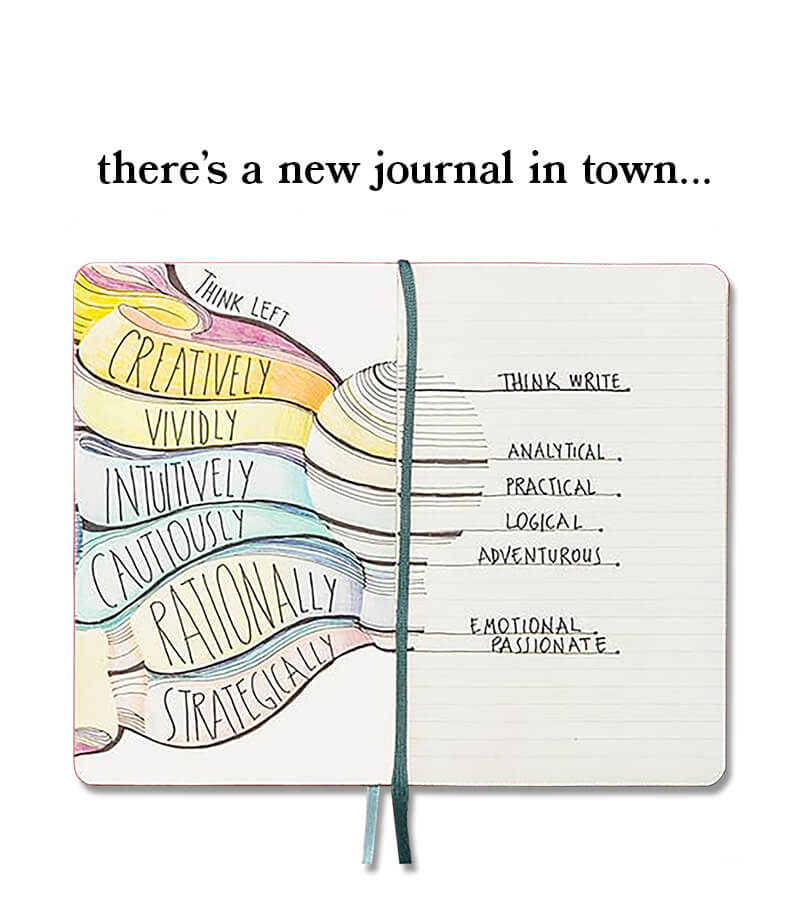 As anyone who's ever had the pleasure of owning a Moleskine journal knows, they're just plain yummy.
Buttery smooth paper beckons your pen to write. And draw.
Which is precisely what makes the new Two-Go format so great: A blank left-hand page for drawing coupled with a lined right-hand page for writing keeps both hemispheres of your journaler's brain happy! 
Another cool thing you can do with Two-Go is whip out the glue stick and make a small collage of tickets, receipts, etc. on the left and jot down event/location details on the right for quick and easy travel journaling.
The Two-Go is slightly smaller than the classic Moleskine journal at 4.5 x 6.9 inches (11.5 x 17.5 cm) versus 5.0 x 8.25 inches (13.0 x 21.0 cm).
It has 144 sheets of 27 lb. (100 gsm) paper, which is heavier/thicker than their writing-only paper.
It comes with an elastic strap to hold it closed, two bookmarks, and a hardbound cotton canvas cover in four color combinations:
Oriental Blue cover with a Mustard Yellow flyleaf
Raspberry Red cover with an Aqua Blue flyleaf
Saxe Blue with a Poppy Red flyleaf
Ash Grey with a Deep Red flyleaf
My only complaint is that they don't offer it with the smooth black cover that I love so much. Oh, well…I guess I'll just have to go a little wild and get colorful.
Two-Go. Twice the awesome!
>> Buy Two-Go on Amazon.com
1